About Us
Max Industrial Microwave is located in YanTai City Shangdong Province China. Since acquisition in 2003, Max Industrial Microwave actively expands industrial microwave business. Max Industrial Microwave Co., Ltd provides many industrial microwave equipment for food company, conference, world-class sports activity for heating fast food, insect research and farm, paper mill company, pulp company, fiber & china company, pharmaceuticals and other biological company etc. Max Industrial Microwave offers an efficient solution for heating ,drying, bonding, curving, sterilizing, reacting, cooking, pasteurizing. Generally, Max Industrial Microwave yields over 50~100 sets of different type of microwave dyer. In 2011, there was an occasion that an international customer approached to talk with us about purchasing a set of batch oven microwave dryer, after a few weeks discussion, we signed the first oversea contract with our customers. Right now, the first customer still like and utilize our microwave dryer equipment. Therefore, we started to export microwave dryer to international customers, and gains a good reputation.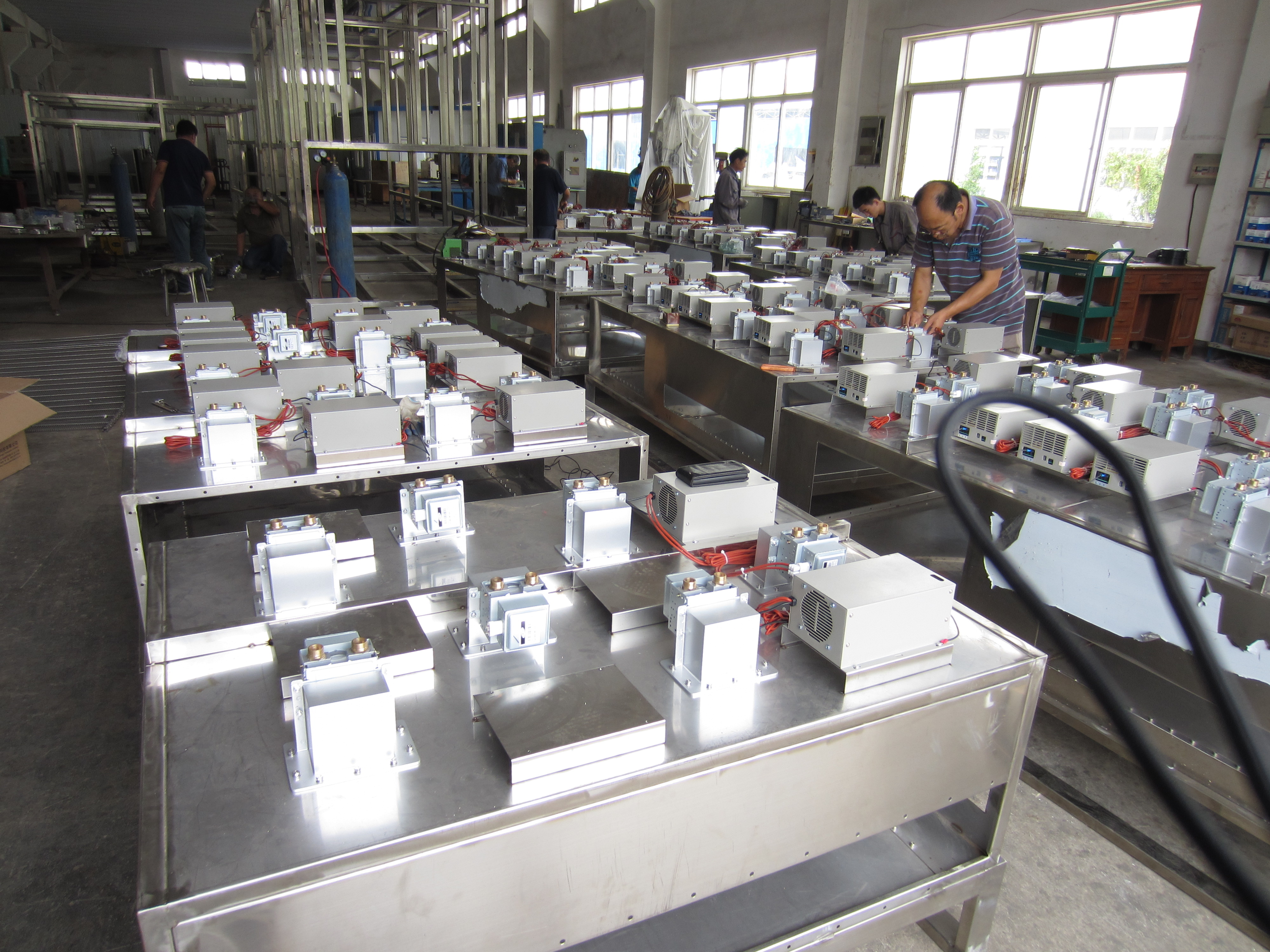 Feature of Max Industrial Microwave
Max Industrial Microwave Efficient: The electrical microwave system only uses 35% to 50% of the energy per liter of water evaporated compared to other traditional dryers. Additionally, it can achieve from 4 to 10 times faster than conventional drying methods, and important reduction on the thermal processing time. Max Industrial tunnel microwave continuously, averagely and immediately process large amount of material in a predictable and uniform manner.
Max Industrial Microwave sterilization: 915/2450 MHz of Microwave has the industry drying and sterilizing function. Typically, microwave sterilization technology can be utilized to both solid and liquid food, also preserves the food nutrition, appearance and flavor.
Max Industrial Microwave small footprint: Users only need lay material on the belt or tray without contaminated agitate and blend. Single layer microwave only take a small place with easy installation. Even in a constrained palace, users can easily operate the machine
Environmentally-friendly: The electrical powered microwave system could green source such as water energy, wind and Biomass fuel etc. As the lower temperatures involved and no combustion, the microwave dyer's exhaust is mainly water vapor, so it is much cleaner than other dryers. There are no exhausted gas (COx, NOx) to achieve the virtually nil emissions. Particularly, the microwave dryer is popular in the cleaning workplace, laboratory and ethanol plant.

Why Choose Max Industrial Microwave?

Experience: with over many years experience of microwave drying food, mealworm, fiber & glass, china, wood, powder, pulp material, vegetable & fruit, tea, pharmaceutical and other industry material, Max Industrial Microwave could offer a efficient and cost-effective method to assist you. Our rich experience engineer could provide the batch oven heating microwave, tunnel belt microwave dryer, vacuum heating microwave and industry cylinder dryer etc. Our solution mostly meets and exceeds our customer's expectation.
Unique design: Max is able to customize your specific requirement and design for your unique application. Our engineer team could simulate drying method prior to design unit and start fabricating the equipment in order to assure the efficient. Any requirements related to microwave dryer, our engineer is capable of providing a better and unique solution.
Economy: With the similar function as other brands, Max Industrial microwave has a competitive price with high quality standard such as stainless steel material, well-know brand microwave dryer components and specific design. Our equipment save your investment and control your business budget
Industry Recognition: Our equipment obtain a really good reputation in the microwave drying and heating industry as we meticulously manufacture every single piece and carefully inspect equipment prior to delivery to our customers jobsite. Therefore, Max microwave dryer has the recognition by competitors and users.
Also, Max has entered into a partnership strategy with Universities, Researching Institution and microwave industry league to develop and launch new microwave technology. Max Industrial Microwave integrates global resource, advanced technology and rich experience to service our customers. Max is committed to manufacture quality equipment with competitive price.