News
Microwave + Light Wave Tunnel Machine
Recently, we roll out microwave energy with light wave to process "green" material including green tea or vegetables to maintain original green color to improve the outlook of material.
It's inhibiting the enzymatic oxidation of polyphenols in fresh leaves, evaporating part of the water in fresh leaves, making tea soft, easy to roll and shape. And at the same time, it sends out green smell, promote the formation of a good aroma of tea production steps.
The combination of microwave and light wave achieve the rapid sterilization of tea and green plants enzyme process. It also can be used as a dryer and sterilizer. The equipment can not only kill green shoots, but also kill green tea and leaves. Microwave can penetrate the green plant inside, and light wave mainly heat the surface or material.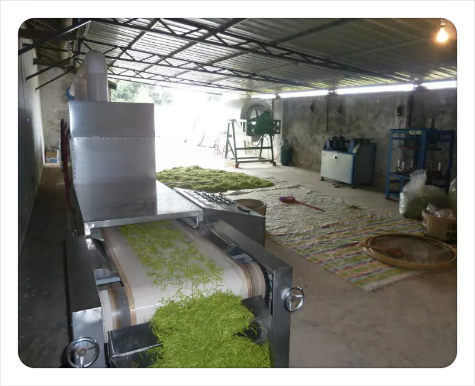 The Characteristics and Microwave + Light Wave
1. The green plant green killing speed/de-enzyme is fast; It only takes 3-5 minutes to finish the processing.
2. After the microwave and light wave process, the tea quality is improved, and the color, aroma and appearance are excellent;
3. Automatic flow-line operation, high degree of automation, saving labor and production costs;
4. Energy saving and environmental protection, microwave + light wave sterilization machine can process 10 kilograms of tea per kilowatt per hour
5. Microwave + light wave can be used as dryer and sterilizer at the same time. It can be used as a multi-purpose machine to maximize the utilization of resources.