News
Non-fried Shrimp Cracker Making Machine
MAX Industrial Microwave can quickly puff and cook the shrimp cracker or prawn crackers to serve as the snack food without oil fry. Traditionally, we need use the oil to deep-fry the shrimp cracker so we could get the puff and crunch the shrimp crackers. However, we also could use MAX Industrial Microwave machine to quickly cook the prawn crackers without oil fry, which is much more health.
Our automatically shrimp slice/prawn slice cooking machine only takes a few seconds to puff the crackers. The microwave puffed prawn cracker looks like just the exactly same as the deep fry the crackers in the oil, but it does not contain any oil smell. The microwave puffed solution is less messy and faster, as the crackers do not become as oily. In addition, the cracker also retains a stronger aroma of raw shrimp.
Prawn cracker is a popular snack in parts of Southeast and East Asia including Indonesia, Malaysia and Vietnam. These are called krupuk udang in Indonesian, prawn crackers in British English and shrimp chips or shrimp crackers in American English. They are known as kroepoek (old Indonesian spelling for krupuk, based on Dutch spelling rules) in Dutch, Krabbenchips (crab chips) in German, chips à la crevette in French and nuvole di drago (dragon clouds) in Italian.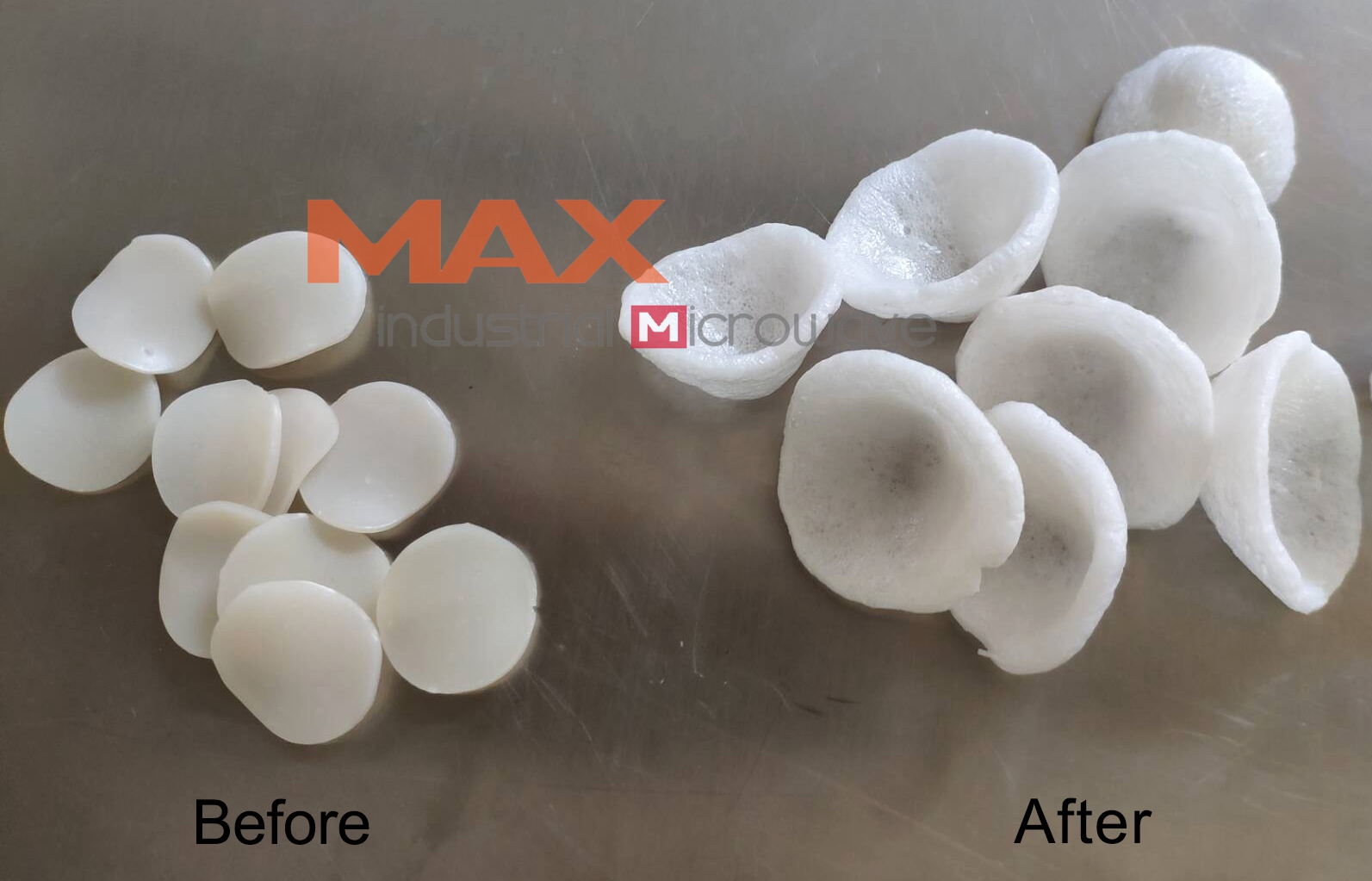 Australia
They are also known as prawn crackers or prawn chips in Australia. It is popular in many Asian restaurants. They are usually colored pink with a salty flavor. They are usually treated as a side dish, entrée or snack.
Indonesia
Prawn crackers are called krupuk udang in Indonesian, and are only one variant of krupuk recognised in Indonesian cuisine. In Indonesia the term krupuk or kerupuk is used as umbrella term to refer to this kind of cracker. Indonesia has perhaps the largest variety of Krupuk.
Krupuk udang (prawn cracker) and other types of krupuk are ubiquitous in Indonesia. The examples of popular krupuk udang brands in Indonesia is Finna and Komodo brand. To achieve maximum crunchiness, most of this pre-packed raw krupuk udang must be sun-dried first before being deep fried at home. To cook krupuk, a wok and plenty of very hot cooking oil is needed. Raw krupuk is quite small, hard, and darker in colour than cooked one. Fishing towns of Sidoarjo in East Java, also Cirebon in West Java, are major producers of krupuk udang.
Malaysia
Prawn crackers are also one of the popular snack in Malaysia and are particularly served at homes of many during festive celebration (such as the Chinese New Year and Hari Raya) being a crowd-pleasing snack, this type of cracker can be found in many groceries stores and supermarkets.
Vietnam
Sa Dec in southern Vietnam is the home of bánh phồng tôm. The traditional snack is made of ground shrimp, sometimes mixed with cuttlefish, arrowroot flour, tapioca flour, onion, garlic, sugar, fish sauce, cracked black pepper and salt. Traditionally the dough is steamed, rolled out, cut into round chips then dried. Another method is to form rolls, steam and then slice into thin rounds before being dried. Modern production favors the oval shapes such that the chips form a scoop as an accompaniment to salads (gỏi and nộm).
Chinese
In Chinese cuisine, prawn crackers may use food coloring (including shades of white, pale pink, green and blue), and tend to be lighter and non-spicy. However, in China they are easy to find in supermarkets, yet not popular or common in restaurants or when serving food for friends.
The Netherlands
Through their historical colonial ties with Indonesia, the Dutch are familiar with Indonesian foodstuffs including the Indonesian prawn crackers. Assorted types of krupuk (Dutch: kroepoek), deep fried crackers made from starch and flavorings, such as prawn or crab, are available in many Indische, or Indo, (Dutch-Indonesian) shops in the Netherlands, which locally are called toko. Prawn crackers are also available in many of the major supermarkets. Kroepoek is a standard part of the repertoire of "Indische" (a word referring to the former Dutch East Indies, present day Indonesia; not to be confused with the Dutch word Indiaas, meaning "from India") restaurants in the Netherlands. It is also served in Chinese restaurants in Belgium and in the Netherlands.
While puffing the shrimp slices, MAX microwave equipment can also sterilize the material, effectively kill E. coli, mold and so on, and extend the shelf life of the shrimp slices, which is delicious and healthy.
Characteristics of Non-fried Shrimp Slices Microwave Puffing Machine:
1. Short puffing time and high output. Microwave directly acts on the shrimp slices, the energy loss is small, and the average puffing time is less than 1 minute. The conveyor belt quickly transports the shrimp pieces through the microwave cavity, and the output per unit time is much higher.
2. The puffing effect is even. We just need to spread the shrimp slices on the conveyor belt. After processing, the bulk volume is about three times that of the original one, the output products are uniform, and there is no phenomenon of partial baking or no-puffing. The puffed shrimp slices keep the white and bright color as well as the prawn smell.
3. Healthy and delicious. Compared with extrusion and frying, the microwave puffing process does not produce a series of chemical reactions, does not increase the fat, and better retains the original flavor. In addition, a shorter a few seconds puffing time greatly reduces the nutrient loss of the material.Therefore, microwave puffing technology is also widely used in the processing of starchy foods (such as corn, glutinous rice, millet), protein foods (such as soybeans), and mixed foods (such as shrimp slices).
4. Puffing and sterilization are completed at the same time. Microwave energy achieves satisfactory bactericidal effects.
5. Energy saving and environmental protection. The microwave directly acts on the material, and the energy conversion rate is high, which saves the consumption of electric energy. No gas or waste is generated during the operation of the equipment.
6. Easy to operate. Compared with the traditional method, MAX microwave equipment is ready to use, small footprint, no thermal inertia, flexible operation and convenient, microwave power can be adjusted according to actual production needs.
MAX microwave puffing machine adopts the PLC automatic control system, combined with rotary speed control and timer set up, which saves a lot of labor. Microwave puffing machine is popular among snack manufacturers, and it is an innovation in modern snack production.
If you plan commercially produce non-fried prawn crackers, also known as prawn chips and shrimp puffs, contact with us for more detail.